Course Overview
Visual effects bring stories to life on the big screen. Using the latest techniques in 3D computer graphics you'll create stunning objects and characters – and put these into real life footage to make believable scenes that will wow audiences.
We've linked up with industry specialists Creative Media Skills (CMS), based at Pinewood Studios, to create this unique course. It's been designed by experts with industry needs in mind, so you'll have the practical skills employers look for.
The film industry is a fast-moving world. You need to immerse yourself in it to stay in the game. That's why we've made sure you'll spend time studying with CMS at Pinewood Studios so you can use their connections to get up-to-date, inside knowledge of what the industry really looks like.
In year 1 you'll study at Bucks under the supervision of our industry expert lecturers.; in year 2 you'll start to visit the studios for masterclasses, and by your final year you'll be studying more frequently with CMS at Pinewood Studios.
You will learn in small groups and benefit from more contact with our teaching staff, offering you personalised support, feedback and encourgaement to help you achieve your goals
Use industry-standard software and equipment
Study a practical course where you'll be assessed on your creative skills
Start by learning the main skills for a career as a digital artist, then specialise in your chosen role for your final year projects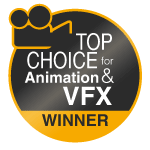 Bucks New University was named one of Full Rotation's top UK universities to kickstart a career in Animation or VFX.
More placements, more choices
Bucks is a Placements Plus university. So, whatever degree you do, you can be sure there'll be plenty of industry-relevant opportunities on offer, to help you get into your chosen field.
We'll also prepare you for work beforehand, with special skills for work training, further boosting your CV, and building skills employers will value. In recognition of the value we place on these skills we have incorporated this experience into your study time.
Placements Plus is all about helping you get some valuable experience under your belt while you're a student. To increase your choices later, and help you get the graduate-level job you want.
Course Details
From digital sculpting to rigging, you'll learn the ins and outs of visual effects. Throughout the course you'll develop the skills you need to succeed, while building your network of industry contacts.
The course begins with essential CGI skills and the fundamentals of animation. You'll use 3D modelling to create objects and characters and learn about the pipeline of a professional project. Moving on to year two, you'll learn how to integrate your objects and characters into existing footage to create stunning scenes. You'll also learn how to build an organic character, from sculpting to hair, to clothes and muscle sim.
By your final year, you'll have found the specialism you want to focus on in the industry. Your group projects are a chance to test your skills in a realistic industry scenario. Take your place in the production pipeline and see what it's like to contribute to a major project.
Being a student at Bucks, you'll have committed lecturers, a great support network and one of the country's best Student Unions (NSS 2018). And being based at the CMS facilities at Pinewood Studios, you'll be around professional digital artists and some of the most exciting projects happening right now.
Decades of experience is on hand
Our lecturers, tutors and mentors are all experts at what they do and are led by an experienced academic team. Many of our staff have worked on major productions and have great track records at training talented new digital artists.
Because this course is based in two locations, you'll have access to even more support and inspiration than usual.
We value talent and commitment
Put in the work to build up your creative skills and you'll do well on our course. Instead of formal exams, the focus of your work will be building up a strong portfolio, developing your team working skills and understanding what the industry expects of you.
We'll assess your work through projects which show us what you've learnt and what you're capable of. We believe if you do well in your work at Bucks, you can be confident of being a rising star in the industry in no time.
The tools of the trade
To really learn the craft, you need access to professional software and equipement. We provide industry standard software tools like Nuke, Z-Brush, Maya and Houdini. And with a motion capture studio, a virtual reality lab, and a renderfarm available, you'll be able to fully realise your creative vision.
What are the course entry requirements?
A typical offer will be a UCAS Tariff score of 80. A minimum of two full A-levels (or equivalent) is required. Every application is considered on an individual basis.
For further details of our international English entry requirements, please visit our international pages.
Applicants who do not meet the minimum requirements for the three-year undergraduate programme, or those who do not feel fully prepared for a degree course, can apply for a four-year programme including a Foundation Year; find out more.
Course Modules
Module Map
This module map provides a list of the modules that make up your course. You can find more information about how your course is structured on our Academic Advice section.
The modules available on this course are as follows:
Year One Modules
3D Modelling & Pipeline
Texturing & Look Development
Lighting & Rendering
Animation Principles & The Moving Figure
Previz & Layout
Rigging
Year Two Modules
Compositing 1
Compositing 2
Modelling & Look Development
Digital Sculpting and Organic Modelling
Groom
Muscle Rigging
Character Clothing & Simulation
Year Three Modules
Industry Production Project
Portfolio Piece
Creative Production Project
Showreel
Fees
How much does it cost
Full Time Home and EU, Academic Year 2020-2021: £9,250 per year
Full Time International, Academic Year 2020-2021: £12,500 per year
Most courses will involve some additional costs that are not covered by your fees.
You could benefit from financial support through a bursary or scholarship during your time as a student. For more details visit our financial support, bursaries and scholarships section.
How do I apply?
For application details please visit bucks.ac.uk/applying-to-bucks
Teaching team