Course Overview
A skilled animator can create the illusion of real life. Explore acting, expressiveness, and have fun bringing a character to life in a physical space. Soon you'll be captivating audiences with your characters. Your lecturers at the University are experienced industry professionals and experts in their fields, bringing you access to both deep and current understanding of the industry as it stands today.
You will also get the opportunity to study at our Pinewood Studios Campus, putting you right at the heart of one of the UK's most important creative communities
On this course you'll have access to the right tools to kick-start your career in animation. We have purpose bought, up-to-date hardware and use industry standard software. Our creative briefs will give you opportunities to make your portfolio shine and stand out from the crowd.
Get the best of university and industry with classes on our High Wycombe Campus and our Pinewood Studios Campus
Study on a completely practical course – we focus on what you need to know for a career in animation; you'll keep a reflective journal, and learn to give presentations like the professionals
Small class sizes mean plenty of contact with your tutors
The industry is all about teamwork; you will learn about industry pipelines and where animators can fit in
Use our industry standard equipment, including a VR lab, renderfarm, motion capture studio, and state or the art face capture kit and Xsens suits.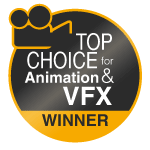 Bucks New University was named one of Full Rotation's top UK universities to kickstart a career in Animation or VFX.
More placements, more choices
Bucks is a Placements Plus university. So, whatever degree you do, you can be sure there'll be plenty of industry-relevant opportunities on offer, to help you get into your chosen field.
We'll also prepare you for work beforehand, with special skills for work training, further boosting your CV, and building skills employers will value. In recognition of the value we place on these skills we have incorporated this experience into your study time.
Placements Plus is all about helping you get some valuable experience under your belt while you're a student. To increase your choices later, and help you get the graduate-level job you want.
Course Details
UCAS CODE: CMSA
You'll begin the course learning the fundamentals of the animation,visual effects and games art industries. You will learn to animate in a believable manner and get a feel for pre- visual narrative and layout. You will also learn how to create detailed models from scratch through to lighting and rendering. You'll start off at our High Wycombe campus,and spend a number of days visiting our campus at Pinewood Studios. These will both inspire you and help you understand what the industry of today is really up to. At the end of year 1 you will have the choice of changing to Visual Effects or Games Art if you discover that your real passion lies in one of these fields instead.
In year two, you'll focus entirely on animation, learning about 3D character acting, stop motion and motion grahics. You'll spend at our High Wycombe and Pinewood Studios Campuses perfecting your skills. . By year three, you'll be t working on projects to build your showreel for entry into employment in this exciting industry and will have opportunities to collaborate with students on other creative courses at the university.
We've structured the course to build up your skills during your three years here. If you have no experience of animating, you'll get to grips with tools and techniques in your first year, learning to develop great models for yourself. We cover everything you'll need to create realistic scenes and believable, engaging characters.
Throughout the course you'll explore different aspects of the animator's role. You'll create stop motion sequences and experiment with different styles of animation. By your final year, you'll be working on a production with your classmates, specialising in a role that interests you.
Experienced lecturers and industry experts
Our Bucks teaching team have years of experience working in the industry and training future generations of animators.
We'll arrange guest lectures and put you to work on live projects. With the busy nature of the studios, and London being so close, there will be a constant flow of talented animators for you to learn from.
A practical course for creative people
The animation industry needs strong creative people with good team working skills. So, we focus on the quality of your work and, along with our own detailed feedback, we will encourage you to learn to self-evaluate and self-improve through the use of reflective journals.
Because exams are not very useful in assessing the artistic capability of an animator, we focus on portfolio-based coursework instead. To be well prepared for the demanding professional world, you will need to work really hard on your skills throughout the course.
The latest and greatest tools
We've made sure you have access to industry-standard equipment. Most of our 3D animation is currently done in Maya. For modelling you'll also have access to ZBrush, Marvellous Designer and a range of other pieces of software commonly used in industry. We review the list every year.
We have the latest equipment used in many films, TV shows and commercials. A motion capture studio, renderfarm, and even VR facilities for this increasingly important area in delivery and development. You'll have access to a stop motion studio and up-to-date camera equipment.
What are the course entry requirements?
A typical offer will include GCSE Maths and English at grade C/4 or above and a UCAS Tariff score of 80-96. A minimum of two full A-levels (or equivalent) is required. Every application is considered on an individual basis.
You are also required to attend an interview.
For further details of our international English entry requirements, please visit our international pages.
Applicants who do not meet the minimum requirements for the three-year undergraduate programme, or those who do not feel fully prepared for a degree course, can apply for a four-year programme including a Foundation Year; find out more.
Fees
How much does it cost
Full Time Home and EU, Academic Year 2021-2022: £9,250 per year
Full Time International, Academic Year 2021-2022: £13,750 per year
Most courses will involve some additional costs that are not covered by your fees.
You could benefit from financial support through a bursary or scholarship during your time as a student. For more details visit our financial support, bursaries and scholarships section.
How do I apply?
For application details please visit bucks.ac.uk/applying-to-bucks
Teaching team